Ghost Dogs On The Loose! Horror-Thriller Loopgod/Doomdog Out Now!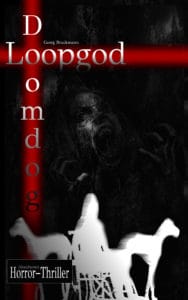 LOOPGOD / DOOMDOG
Horror-Thriller
– Snuff and Dogs and Rock'n'Roll –
A hardcore horror thriller
Gruesome murders and a series of unexplained accidents shake Gullton, the place next to which Sin City looks like a convent school.
Detective Deckard keeps stumbling across new inconsistencies and mysteries as he investigates, and everything points to underworld kingpin Nero Roberts being involved.
His sister Melissa searches for a runaway, while a young nurse encounters a woman who will change his life irrevocably. A band named after a Stephen King story sets out to make it big and a devil meets his mistress.
All this is brought to a boiling point in the diabolical witch's cauldron called Gullton City and served up by forces beyond the earthly with a spiteful grin.
Not for the faint of heart!
Get it here:
Kindle Ebook: https://www.amazon.com/dp/B09PJD6YTS
Paperback: https://www.amazon.com/dp/B09PHJTDP7